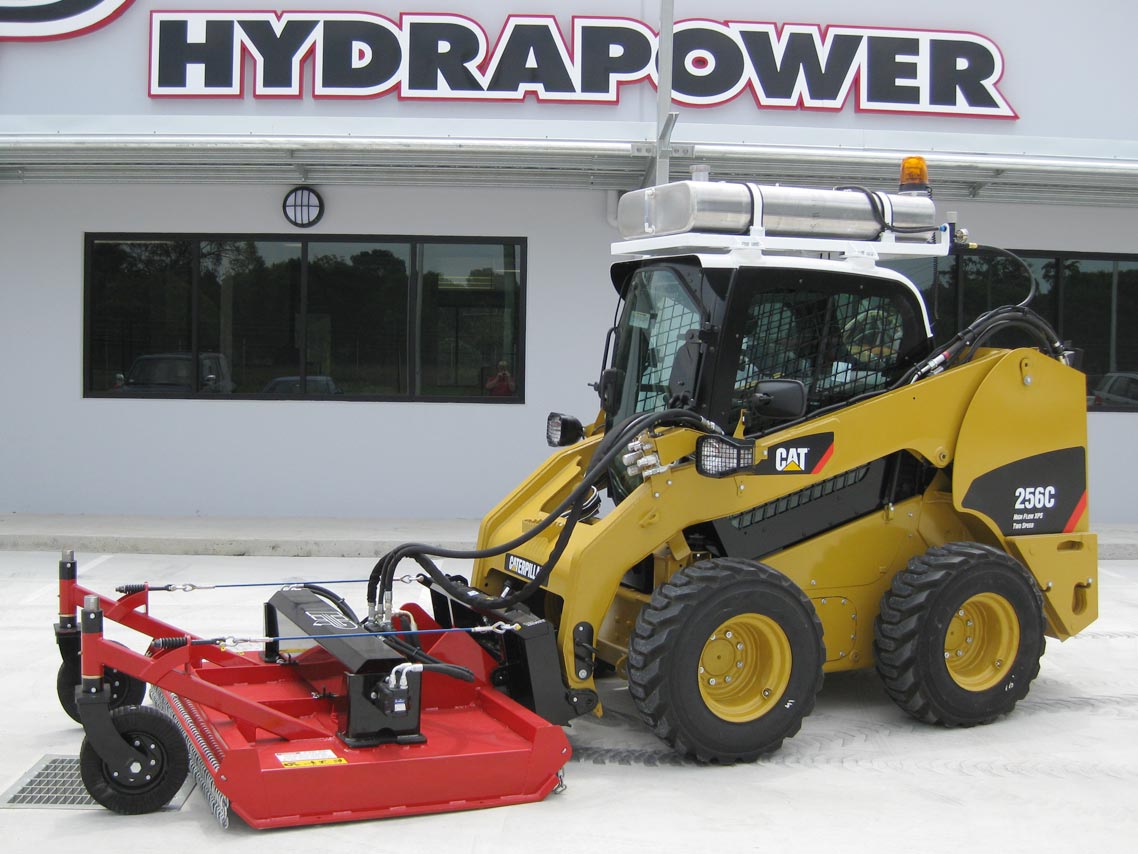 If you have been searching for a range of high-quality skid steer and excavator slashers, your search is over. Hydrapower Attachments Pty Ltd specialises in durable Australian made slashers that deliver outstanding performance.
At Hydrapower Attachments Pty Ltd, our Australian made slashers are designed for ease of use and longevity in even the harshest of working environments. With expertly constructed features such as puncture proof height adjustable tyres and a powerful hydraulic slasher motor these hardy machines will get the job done time after time.
If you're in the market for a versatile and effective hydraulic slasher to tackle tough clearing and brush cutting jobs, why wait? With the right choice from Hydrapower's versatile range of Australian made slashers, all powered by our hydraulic slasher motors, you'll be able to tackle any challenging project with ease, efficiency and enjoyment.
Why Hydrapower for Australian made slashers? 
We are the leaders in designing high-quality attachments for skid steer and wheeled tractor driven earthmoving equipment, with a versatile range of Australian made slashers. From flail mowers and trenchers to profilers, grader attachments and drill rigs, we have got the right equipment and expertise to get your job done.
Our range of Australian made slashers
Our range of hydraulic slashers are designed to help you tackle challenging tasks effortlessly, providing the power and versatility needed to make quick work of tough jobs.
Circular excavator slasher
This hydraulic slasher is designed for ease of use and longevity in even the harshest of working environments. With its single cutting head and either 900mm(3ft) or 1200mm (4ft) cutting diameter, this slasher machine is ready to get to work. The excavator hitch is bolted directly to the reinforced slasher deck, ensuring ease of use and longevity in even the harshest working environments. The slasher blades are designed to cut through heavy underbrush, saplings, shrubs, and other obstacles with ease, providing a smooth and consistent cutting performance. 
DHX High Flow double header slasher
DHX High Flow Slasher is designed for those who require more power and speed in their slasher machine. This hydraulic slasher features quick attach frame pivots that allow the slasher deck to pivot with greater accuracy close to the ground, ensuring easy and precise use. This slasher machine is built to last, with durable 16mm thick slasher blades that can withstand even the toughest working environments. This Australian made slasher is sure to be a valuable asset for your next project.
DX Standard Flow double header slasher
The DX Standard Flow Slasher is designed to provide versatility and flexibility to tackle any job. With its quick attach frame pivots, high-performance hydraulic system, and durable construction, this slasher machine gives outstanding cutting performance every time. The 16mm thick slasher blades are designed for maximum efficiency and consistency even in the most rugged worksites. So, if you're looking for a tough Australian made slasher to handle your next project, the DX Standard Flow is the perfect solution.